Scottsdale Father's Rights Attorneys
With 40% of the US children born outside of marriage, many unmarried parents find themselves struggling to get the rights they deserve regarding their minor children. When a child is born out of wedlock, the mother is automatically given 100% of the decision-making and time-sharing rights regarding the child. It does not matter if the father is present, and signing the birth certificate only provides you with support responsibilities, with none of the rights a married father enjoys.
Child visitation, child support, and decision-making rights are all defined through a legal process with the Arizona court system. There are specific laws and regulations that define how child custody and child support are determined, and there is a set legal process in place for obtaining your rights and fulfilling your responsibilities.
Even if you are currently in a happy relationship with the mother of your child, seeking to legally obtain your father's rights can assure you have unrestricted access to your child long-term. We can help you best broach the conversation with your partner, as most women are happy to have the father of their child take legal responsibility.
If you are an unwed or divorced father struggling to gain rights of access or decision-making rights for your minor children, the Scottsdale Father's Rights Attorneys at Dodge & Vega, PLC are dedicated and driven to get the best possible results for you.
Call Dodge & Vega, PLC at (480) 559-8252 for a Free Consultation.
Divorced Father's Rights
If you are struggling with family law issues related to paternity as a result of divorce, Dodge & Vega, PLC will provide dedicated support. Our Arizona divorce attorneys assist with child custody and child support matters, whether your divorce is contested or uncontested, or as a separate process if your divorce has already been finalized. If your existing custody plans need adjustment, our mens divorce and family law attorneys also assist with custody modification, parental relocation, or other family legal matters related to your relationship with your children.
While Arizona laws are in place that are intended to protect each child's right to a healthy relationship, as well as financial and emotional support from their father, you must take action in order to obtain legal protection. You will never be handed access to your children or given parenting time without requesting and obtaining a custody order. The family law offices of Dodge & Vega, PLC are experienced in getting fathers the favorable results they deserve.
How the Law Addresses Paternity
Unmarried couples have additional hoops they must jump through before they can reap the benefits of shared physical custody, parental responsibility, and decision-making rights regarding their minor children. Before a father can enjoy the rights of parenthood, he must first establish his claim to the child through Paternity.
Establishing paternity does more than give the father legal rights to spend time with his children, it also protects the mother and child by providing enforceable legal guidelines regarding support obligations, and more.
Establishing paternity provides a child born out of wedlock the ability to pursue a relationship with their father

It provides the father the legal right to request visitation or child custody and decision making rights
It provides the mother the opportunity to seek child support from the child's biological father
A man can claim paternity of a child one of two ways. First, if the father is present at the time the child is born, he can sign the birth certificate, acknowledging that he claims the child as his own. If both parents are in agreement on the paternity after the birth certificate has been signed, they can file a motion to add the father to the birth certificate.
If a man is uncertain that a child is his own, or the mother is unwilling to acknowledge his paternity, he can still prove parentage through paternity testing with the family court to begin the process of earning his rights and taking responsibility for his child.
Whether you wish to prove or contest paternity, an experienced Scottsdale, AZ father's rights lawyer, like the experts at Dodge & Vega, PLC will provide you with the advice, guidance, and support you need to gain your rightful place in your child's life.
Complete Family Law Attorneys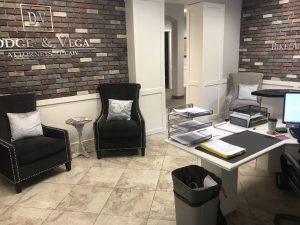 Dodge & Vega, PLC is your Scottsdale, Arizona family law firm, providing complete family legal support for all divorce and family law matters. When you need discrete, compassionate assistance for the most personal of legal matters, we provide a listening ear and insightful advice to assist you in making the best possible decisions for the future of your family.
We provide qualified, affordable support for any family law legal issues, including contested and uncontested divorce, complex divorce, military divorce, property division, prenuptial agreements, legal separation, child support, child custody, spousal maintenance, estate planning, domestic violence, bankruptcy, and more. Not all family lawyers in Scottsdale are qualified or experienced enough to handle these sensitive cases. Just as you wouldn't hire an electrician to fix a leaky pipe, it doesn't make sense to hire a criminal defense attorney or personal injury lawyer for your family law case. We also believe that attorney fees should be affordable, and offer many payment options so competent legal support is never out of reach.
Our dedicated child custody lawyers, divorce lawyers, and Scottsdale child support attorneys are experienced and passionate about family law, and we look forward to ensuring you and your children have the emotional and financial support they need to thrive.
Let's Talk- Free Initial Consultation

Safeguard your relationship with your child and secure your place in their future with the experienced and affordable Scottsdale father's rights attorneys at the law offices of Dodge & Vega, PLC. Our dedicated family law firm is devoted to helping unmarried fathers in Arizona navigate the most challenging times of their lives. We provide personalized, compassionate support backed by our decades of experience and unwavering commitment to our clients.
When you want the right partner to support you during the legal process for your father's rights issue, look no further than the Arizona paternity lawyers at Dodge & Vega, PLC.
Call Dodge & Vega, PLC now at (480) 559-8252 for your Free Consultation!